3/7/12 Philadelphia: Free Screening
February 29, 2012 in Member-Events by admin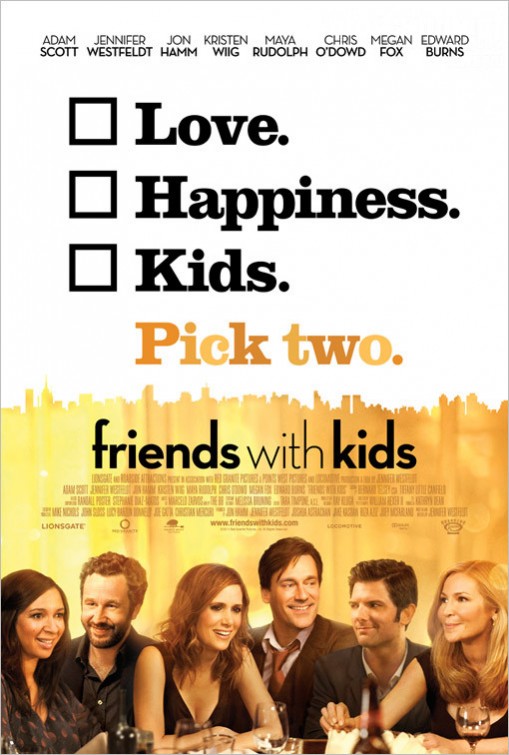 FRIENDS WITH KIDS
Maya Rudolph, John Hamm, Adam Scott, Ed Burns, Megan Fox, Jennifer Westfeldt (writer, director, actor)
WEDNESDAY MARCH 7
7:30PM
RITZ 5 THEATRE
214 WALNUT STREET
Updated3/6/12:  THIS SCREENING IS SOLD OUT!
Want to get free ticket offers like this & support indie filmmakers? Join Today.
Friends With Kids is a daring and poignant ensemble comedy about a close-knit circle of friends at that moment in life when children arrive and everything changes. The last two singles in the group observe the effect that kids have had on their friends' relationships and wonder if there's a better way.  They decide to have a kid together – and date other people.
There are big laughs and unexpected emotional truths as this unconventional 'experiment' leads everyone in the group to question the nature of friendship, family and, finally, true love.
Friends With Kids stars Adam Scott ("Parks and Recreation"), Jennifer Westfeldt, Jon Hamm, Kristen Wiig, Maya Rudolph, Chris O'Dowd, Megan Fox and Edward Burns.   Written and directed by Jennifer Westfeldt (Kissing Jessica Stein).   Lionsgate and Roadside Attractions release Friends With Kids on March 9, 2012.
Website for the film:
www.friendswithkids.com

Project Twenty1 is a 501(c)(3), Member-supported organization.
Get Involved!
Want to help us host more film and animation events? Become a part of Team Twenty1!
Team Twenty1 is a group of Project Twenty1 members that help us fundraise to put on free or reduced-price events to help exhibit our collection of over 600 independent shorts & features.
Currently, our Team Twenty1 is fundraising to bring movies back to Norristown for the first time in 30 years through an outdoor screening series Movies from the Hill! Reply to this message if you'd like to join the Team Twenty1 effort – we've already raised $3,700 and if we do not meet our goal, we will lose ALL of of it!