MST3K's Joel revealing Element! Signup Deadline July 21!
July 18, 2012 in Newsletter by admin
Newsletter (Sign up to get this by e-mail)

MST3K's Joel Hodgson to Announce This Year's Secret Element!

WE'VE GOT MOVIE SIGN!
That's right, everyone! This year's element will be announced, live, in person, and totally not a hologram, by none other than Joel Hodgson of MST3K and Cinematic Titanic!
Teams of filmmakers and animators have 21-Days to create an original short based on a common secret element and they need YOUR help!
All films will receive a guaranteed theatrical exhibition at the International House Philadelphia during the 7th Annual Philadelphia Film & Animation Festival.
Joel will announce the secret element at 6 pm on Saturday, July 28th at Triumph Brewery in Philly. Come out with your headshots and business cards for a chance to get on a Team.
Want to make your own Team and guarantee your spot on the silver screen? Do it by July 21! There is still time to register here!
LAUNCH EVENT
WHEN: Saturday, July 28th 2012 – 2:00-6:00 pm
WHERE: Triumph Brewing Company View  Map
FREE, All-Ages
---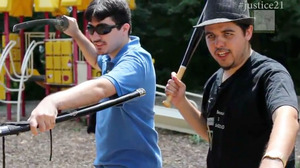 "Project Twenty1 To the Death" Sequel in the works
Last year, a collaborative effort of nine teams from Project Twenty1 gave rise to a film that can only be described as "deranged and awesome."
Teleporting filmmakers, Australian Ninjas, and angry stop-motion ragdolls all beat the stuffing out of each other in the wierdest battle royale in history, all in the hopes of attaining the stolen Project Twenty1 Secret Element.
And they're doing it again this year. The new short will feature "all the past P21 films… coming to life," explains Doug Seidel of Justice Productions. "We will try to get a group together one day in Philly for a big battle/sfx blowout," Doug says, but "if you are too far away from our area to get together, just send me a video. It can be as simple as a character chasing you [for] one shot, or as complex as them coming out of your TV."
If you want to get involved, or just want an excuse to beat up some of your filmmaker friends, send Doug an email at Justiceproductionsllc@gmail.com
---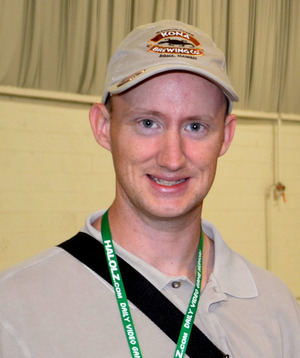 Featured Member: Chris Loper
Chris Loper is our newest Member and brand new to the Philadelphia area. His interest in film traces back to when he used to help his dad make skydiving videos and writing screenplays as a hobby as a teenager.
Chris will graduate next month with a Master's in IT while he works in the Air Force at McGuire AFB, NJ to maintain air traffic control radar systems. He recently came back to the US after two overseas tours, one year in Korea and 15 months in the Azores. He's been entering video contests in Air Force organizations and has joined Team Justice Productions for this year's 21-Day Competition. (Editor's Note: Boy, Team Justice Productions is all over this newsletter, what's up with that? -Susie F.)
Chris wants to learn more about the Philadelphia filmmaking community and is interested in helping with shooting, writing and editing on creative projects. You can contact Chris by e-mailing cloper84@hotmail.com or visiting his YouTube here or here.
We love our Members! Join Today!
See you at Launch!
Your friends, as always,
Stephanie, Matt & All the "Susie Filmmakers"
Project Twenty1: EPIC
Exhibit, Promote, Inspire & Connect