Newsletter: Earth Hour Reminder & Festival Dates
March 5, 2011 in Newsletter by admin
Newsletter
March 5, 2011
REMINDER: Shorts & Shots with Glow Networking

MARCH 26, 2011
6-9:30 pm (open to the pubic until 2 am)
$5/FREE for P21 Members, 21+
Earth Hour is quickly approaching and tickets are selling fast. Ensure entrance to our event by clicking here to RSVP or here to download the flyer.
The night will start off with an open-mic indie movie screening ("Shots & Shots"), where short films, animations, music videos, and trailers (15 minutes or less, R-rated or less) will be pulled out of a grab bag at random. "Green-Themed" films will automatically receive priority screening!
Enjoy drink specials from 6-8, ($3 Yuengling Lagers and Yards Draughts, $3 Well Cocktails, $5 House Red & White Wines, and $5 Absolut Cocktails).
At 8:30 sharp, the lights will go out for a round of hilarious and fun Glow Networking.  Film industry professionals "network in the dark" wearing color-coded, reusable LED lights based on their profession (Ex: Green=actor, Purple=musician, Blue=Animator, Red=Filmmaker, Orange=Writer, and Yellow=general movie lover) in celebration of global Earth Hour.
Big gift bags of prizes from Sony & Dymo will be distributed to the best films of the evening (selected by the audience) at the end of the night.
Featured Short of the Evening**: Premiere of an unseen episode from "OverAnalyzers", the newest web series by Cinemassacre, starring James Rolfe (AVGN). Several of the cast & crew members of the series will be in attendance. (**not in competition for "Best Short of the Night")
Questions about Shorts & Shots? Visit our FAQ.
MEMBER SPOTLIGHT: CHRISTOPHER BARLEY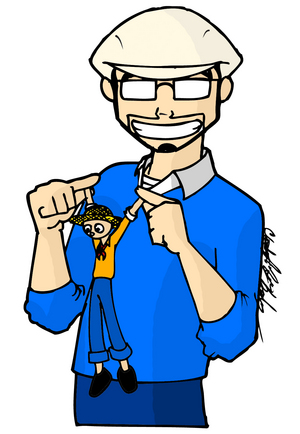 Periodically, Project Twenty1 nominates Members that deserve a little bit of extra attention for their efforts!
Christopher Barley comes to us from Yardley, PA, a small town across the Delaware River from Trenton. While he is first and foremost an animator, he also has experience in writing and graphic design. Barley has been very successful with his work, having won both the "Best Animation" prize for Otto at ProjectTwenty1's very own 21-Day Filmmaking Competition, and the award for "Best Original Script" in the annual Pennsylvania State Theatre Competition.
Currently, Barley is working with his production company, Dragon Crest Productions, on starting up a stop-motion based web-series. Barley is looking for those passionate about filmmaking/video and "who have patience for the tediousness of animation" to jump on board this project.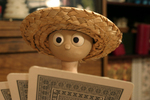 "When you are working on a film for eight hours, and at the end of the day have maybe 30 seconds of it completed, you really have to be able to laugh and joke around afterwards or you will hate it," Barley states. Barley and his team are looking for people especially interested in stop-motion animation and those familiar with web-design and HTML. Contact Chris and his team at dragoncrestproductions@gmail.com to get involved!
THANK YOU FOR VOTING!
Project Twenty1 is still running in a contest sponsored by Intuit to receive a $30,000 hiring grant to hire our FIRST volunteer! So far, 57 Fans have texted, Facebook'ed, and posted about us to try to help us WIN! You can help today by voting now.
FESTIVAL DATES
The Official Dates our our big fall festival that you've all come to love are September 28-October 2, 2011. We have a lot of really exciting news about some changes and expansion, but we just wanted our loyal Newsletter subscribers to know the dates as SOON as we knew them!
Call for entries and team signups will open on March 26th, so stay tuned!