PFAF Winners, Pics & Upcoming Event
October 9, 2011 in events, Newsletter by admin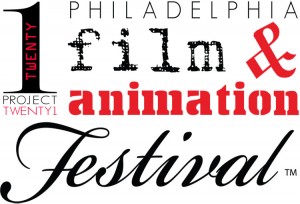 Never miss another newsletter.  Click to subscribe!
The 6th annual Philadelphia Film & Animation Festival has wrapped! Thank you to all who participated, attended, judged, volunteered, and voted!
Winners
PFAF, 21-Day Filmmaking Competition, and Audience Favorite winners announced HERE!

Photos
All Official Festival Photos are HERE. Contribute your pics by e-mailing/DropBoxing to ProjectTwenty1@gmail.com. We've also uploaded some pics to Facebook if you want to share them with your friends/help us tag everyone!
Support & Save
Click here to receive free shipping on your Entertainment Book for helping Project Twenty1! Proceeds benefit our upcoming programs!
Upcoming Events
Reminder – our Member Appreciation Day is THIS WEDNESDAY, October 12, 6:30 pm – 9:30 for current
Members
Come meet your fellow  members, enjoy free food and light beverages, and take a peak a few short film festival favorites in our private screening room.If you are a current Member and have not received your special e-mail invite to this event, contact
ProjectTwenty1@gmail.com
so we can ensure that you are receiving out special Member-Only E-mails.
October Spotlight TBD!
In an effort to promote our hardworking film & animation community, Project Twenty1 randomly selects Members to feature in the Spotlight portion of our site & newsletter.  Become a Member and let us know what you've been up to!
Susie Filmmaker's Project!
Susie Filmmaker
is collecting "lost" film for an indie film awareness project. Any strip of  Super-8 or 16MM film at least 6 inches in length would be useful. Send donations to: Project Twenty1, 107 E. Main St., Ste. LL1, Norristown, PA 19401 ATTN: Susie's Film Project

Stay Tuned!
We will release our selections list for the"Start with  Crash DVD", as well as our 2012 Schedule shortly. Until then, stay safe, keep in touch, and keep filmming!
Your friends, as always,
Stephanie, Matt & All the "Susie Filmmakers"
Project Twenty1: Exhibit. Promote. Inspire. Connect.
Think your organization might benefit from promoting their products or services to an audience of young, trendy, cultured, intelligent consumers? E-mail ProjectTwenty1@gmail.com to become a sponsor for our 2012 Events before we announce our full schedule!