What is the Spotlight? As a part of our mission to Exhibit, Promote, Inspire & Connect, Project Twenty1 features exemplary Members in the field of film & animation throughout the year.
Want to be in the Spotlight? if you're a current Project Twenty1 Member, simply e-mail us (projecttwenty1 (at) gmail.com) a photo and writeup about some of your past and present work, and we'll let you know if you're selected!
2012 Spotlight
Chris Loper
Chris Loper is brand new to the Philadelphia area. His interest in film traces back to when he used to help his dad make skydiving videos and writing screenplays as a hobby as a teenager.
Chris will graduate next month with a Master's in IT while he works in the Air Force at McGuire AFB, NJ to maintain air traffic control radar systems. He recently came back to the US after two overseas tours, one year in Korea and 15 months in the Azores. He's been entering video contests in Air Force organizations and has joined Team Justice Productions for this year's 21-Day Competition. (Editor's Note: Boy, Team Justice Productions is all over this newsletter, what's up with that? -Susie F.)
Chris wants to learn more about the Philadelphia filmmaking community and is interested in helping with shooting, writing and editing on creative projects. You can contact Chris by e-mailing cloper84@hotmail.com or visiting his YouTube here or here.
Kristen Kress
Kristen Kress is a director, comedian and actor from Pittsburgh, PA, transplanted to Astoria, NY to persue a career in fim and comedy. She was recently an AD on a feature called
Coach of the Year
, an independent, kid-friendly sports comedy feature film based on the inspiring true story of a rag tag swim team that tries to win a state championship…without a pool to practice in.
Her team and production company, Brain Fry Productions, recently competed in the NYC 24 Hour Film Race, as well as the 48 Hour Film Project, and advanced into the top tier, Best of NY in both competitions. The 48 hour project, "Free Bike," won the audience favorite award as well as an honorable mention for best actress in a featured role for Laura Michelle.You can see all Kristen's short films, sketches and standup comedy on her Youtube channel at:
http://www.youtube.com/especiallykk10
or
http://www.youtube.com/brainfrytv
Left2Film Productions
Left2Film Productions is a young, Philadelphia-based production company – created by David Scales, a Collins College (Tempe, AZ) graduate with a B.A. in Film and Video Production. David teamed up with his girlfriend, Michelle Ybarra and sister Laquita Scales, who in addition to her video production assistance, keeps her hand on the pulse of the latest interests of Generation X.In addition to creating in-house projects, they also provide work-for-hire services ranging from live events and weddings to several genres of music videos, short films, and features. Visit Left2Film Production's 
YouTube Page
to see more, including a trailer for their newest project 
"The Story of The Slicksters"
. You can also follow them on 
Twitter
and 
Facebook.
2011 Spotlight:
Caroline Savage

Caroline was born in Ismailia, Egypt and traveled extensively as a child. She studied art history at SUNY Binghamton where she first encountered independent/experimental film through Ken Jacobs and Larry Gottheim. In San Francisco, she studied photography and filmmaking at the San Francisco Art Institute, receiving a BFA and MFA. She views her mentoring with Malcolm LeGrice, James Broughton, Larry Jordan, Gunvor Nelson, Ernie Gehr and Janis Crystal Lipzin as the bedrock of her filmmaking education.
She has taught at SF State, SFAI, UArts, Temple, Dickinson College and Arcadia University both Photography and Film. For 11 years she was Program Director at the Pennsylvania Council on the Arts, managing the state public funding for Media Arts, Visual Arts, Interdisciplinary Arts, Service Organizations and Individual Artists. Currently, Caroline coordinates the operations at PIFVA and oversees the Cinema Speakeasy, Finishing Funds, Speedcrewing programs. Additionally, she is on the Board of Termite TV and makes large drawings with Cyanotype chemicals and digital scanners.
Caroline has been a supporter of Project Twenty1 for several years, hosting grantwriting workshops at the Philadelphia Film & Animation Festival, cross-promoting events, and constantly looking for PIFVA/Project Twenty1 partnership & growth opportunities. We salute you, Caroline! <!–nextpage–>
Jeremy Doe
Jeremy Doe is one of our only members living in Asia. He is a filmmaker, producer, and animator currently living in Kitakami, Japan. He has a B.A. in Film & Video from the University of the Arts in Philadelphia, and his work has been seen on MTV2, Current TV, Univision, and all over the internet. In 2007 he was a Guest Editor at Youtube, featuring indie filmmakers and animators from all around the world. He has since helped out with Project Twenty1 behind the scenes providing consulting and support.
"Project Twenty1 has encouraged me to keep making and working on films, no matter where I live. I may not be in a local film hotspot, but the online network that Project Twenty1 has provided has been invaluable as a source of inspiration and help." Since Jeremy moved to Japan, he has made commercials for Samsung, promotional videos for Lexus and Sony Pictures, and works as part of the Cinevore/Cinemassacre co-production "OverAnalyzers" as the theme music arranger and opening animator.
His currently project is VoteSeriousBaking.com, where has been selected as a finalist to win $10,000 on a spec commercial. (Help him out! Vote!)
To see more of his work or connect with Jeremy, please visit his Youtube ( http://www.youtube.com/user/psychomelody )  or visit www.jeremydoe.com.
Stefania Luciani Binnick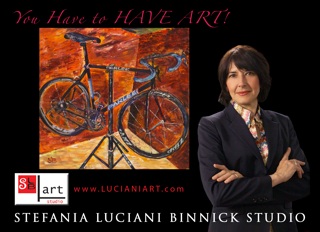 The unification of humanity and nature to bring citizens together is the focus of the multi-faceted artwork of Stefania. Born and raised in Philadelphia and Norristown, Pennsylvania to Italian parents, she never lost touch with her Italian roots. She grew up spending her summers at her grandparents' home in the Abruzzo region of Italy. She is fluent in 4 languages and many Italian dialects.
She has study abroad degrees from the University of Madrid and the University of Paris in Language, Art and Literature, in addition to a Bachelor of Arts, cum laude, in French, Spanish and Art History from Chestnut Hill College, Philadelphia, PA. She also holds a Bachelor of Fine Arts degree and a Master of Fine Arts degree from the University of Pennsylvania's School of Design. While at the University of Pennsylvania, she studied under Neil Welliver, who was called "The Dean of American Landscape Painting".
Stefania is certified to teach and has held teaching positions at both the High School and College levels. Her projects have taken her throughout the USA, Europe, Mongolia, and other places around the world. She considers herself a visual arts ambassador. Her works include oil paintings, landscapes, murals, photography, and a garden tearoom to be installed in a residential garden or a park. She is very active in creating commissioned art and civic improvement projects.
To contact Stefania please email: LucianiArt (at) me.com and check out 
LucianiArt.com
---
Senator Daylin Leach

PA State Senator Daylin Leach is a proud Member of Project Twenty1!
Senator Leach was born in Philadelphia and had an early interest in public service, starting his volunteerism at age 12. He graduated Temple University with a degree in Political Science, and earned a law degree from the University of Houston Law Center in 1983.
Senator Leach is on the Board of the Bryn Mawr Film Institute and is a member of the Chamber of Commerce, Lower Merion Conservancy and the Philadelphia World Affairs Council.  He is married to Jennifer Anne Mirak, a Psychologist, and has two children, Brennan and Justin. Over the last two years, Senator Leach and his staff have supported Project Twenty1 by assisting with state paperwork required to become a tax-exempt  501(c)3 non-profit arts charity. Senator Leach's office has been an integral asset with the development of Project Twenty1′s educational program through partnership with the Department of Community and Economic Development (DCED).
To contact or find our more about Senator Leach, visit www.senatorleach.com.
---
Doug Seidel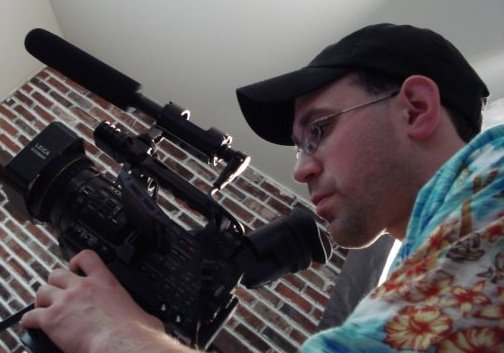 This month's spotlight member is Doug Seidel, a filmmaker that wears a lot of hats (literally, he always has some kind of different hat every time we see the guy!) Doug is a Central Jersey producer, director, actor and editor that graduated Rowan University in 2004 with a degree in TV and Film production.
In addition to winning awards at the Down Beach Film Festival and 48-Hour Film Project, Doug was the recipient of Project Twenty1′s first annual EPIC Award in 2010 for embodying our mission to Exhibit, Promote, Inspire & Connect creative communities.
Recently, Doug had a supporting role in the film "Pawns" which premiered in NYC in April. Doug also just wrapped on a music video shoot and he's prepping a team for this year's 21-Day Filmmaking Competition. He's also working on an action/comedy/serial about two superhero roommates. The web series is based on the Justice Productions logo and mascots "Golden Eagle & Green Dawn" (who were spotted on our Red Carpet last year. Before security escorted them out in straight jackets, of course).
Doug and Justice Productions are always looking to meet more filmmakers. "I believe there is something to learn from every filmmaker I meet." Contact Doug at  justiceproductionsllc@gmail.com, facebook.com/justiceprod, youtube.com/jprodllc, justice-productions.com, twitter.com/justiceprod


---
Dawn Harvey
This month's spotlight member is Dawn Harvey, a professional television, film, and stage actress. She received her B.A. in Theatre from Rowan University and has since built an impressive reel. Some of her credits include roles on Saturday Night Live, Law & Order: SVU, and As the World Turns, among many others. Most recently, Harvey hosted the Project Twenty1 event "Shorts and Shots with Glow Networking" and starred in as well as co-produced the film "Super Solar Sisters" for the 48 Hour Go Green Filmmaking Competition.
"Project Twenty1 has provided me the opportunity to work with numerous Philadelphia based indie film directors," says Harvey, "It has been an invaluable resource." Harvey is looking for starring and supporting roles in local indie short and feature films as well as being open to producing projects that would provide her an opportunity to act.
If you'd like to learn more or connect with Dawn, please visit her website: www.dawnharvey.com
---
Christopher Barley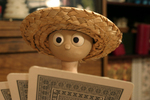 Christopher Barley comes to us from Yardley, PA, a small town across the Delaware River from Trenton. While he is first and foremost an animator, he also has experience in writing and graphic design. Barley has been very successful with his work, having won both the "Best Animation" prize for Otto at ProjectTwenty1's very own 21-Day Filmmaking Competition, and the award for "Best Original Script" in the annual Pennsylvania State Theatre Competition.
Currently, Barley is working with his production company, Dragon Crest Productions, on starting up a stop-motion based web-series. Barley is looking for those passionate about filmmaking/video and "who have patience for the tediousness of animation" to jump on board this project.
"When you are working on a film for eight hours, and at the end of the day have maybe 30 seconds of it completed, you really have to be able to laugh and joke around afterwards or you will hate it," Barley states.
Barley and his team are looking for people especially interested in stop-motion animation and those familiar with web-design and HTML. Contact Chris and his team at dragoncrestproductions@gmail.com to get involved!