(view the pretty version)
Hey, Project Twenty1 Subscriber,
Since this is the week of LOVE, we're showing our screenwriter friends how much we LOVE them by promoting five random writers for FREE on our social media sites between February 14-21!*
If you're a writer seeking indie filmmakers to partner with on producing your work or anaspiring screenwriter seeking to partner with another writer like yourself, reply to this e-mail with a short blurb (250-500 words) about "your specific needs". Remember, this is all about CONNECTION and COLLABORATION with indie artists like you, not a guarantee that you're going to sell your screenplay to a big movie studio (but hey, yah never know).
*Writers for Project Twenty1 promotion will be selected randomly from a pool of the top qualifying submissions.
Here are some GOOD blurb examples:
(these aren't real, people, just examples):
Sally Sallyson from Philadelphia, PA is seeking writers from all over the world to do a screenplay swap for constructive criticism. Will sign NDA. Contact example@lalala.com
Donald Donaldson from Donaldson, MS has written a 7-minute short comedic western script completed. Donald has several locals available and will help fundraise for the project, but does not have access to equipment or actors. E-mail example@example.com.
Pam Pamelot of Pamville, AL has a script and crew together for an online web series but needs TONS of extras for a crowd scene in a ballpark in  downtown Sueville. Also seeking male lead, 18-24, all ethnicities, union, March 2011. Call 555-555-5555.
Here are some BAD blurb examples:
John Doe from Anytown, PA is seeking a filmmaker to totally finance his movie idea. He doesn't have a script, treatment, or business plan – he just has an idea and thinks you should make it for him for free. He also forgot to list his contact info.
Jane Janey from Anytown, PA has a script that isn't copyrighted or registered with the WGA and she'll send it to anyone. Contact jane@needstoprotectherself.com
Win Cash for Your Project:
Still need ideas to finance your dream script? Project Twenty1 has renewed our partnership with Final Draft, which now offers $30,000 in cash & prizes for those awesome screenplays. Check it out:
The Big Break Contest is Now Open
Early Bird Deadline
March 1, 2011 (save up to $15)
For more information about the Big Break Contest, click HERE!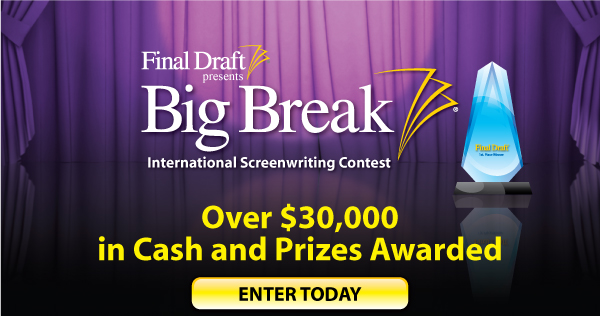 PS: They also make awesome screenwriting software. In case yah didn't know.
Good luck, everyone!
Matt, Steph &
the Susie Filmmakers
PS: We really hope to see you all at Earth Hour Glow Networking next month! Don't forget to bring a copy of your short film for screening and your business cards for networking!